Profile
Norman Morgan
Life Member - Ynys Mon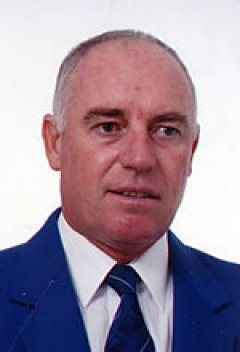 Island: Ynys Môn
IIGA History:
Executive Committee:
Member 1995 – 1999
Honorary Life Member Since 1999
Games attendance: 1985 – 1995, 2003
Contribution to the IIGA:
Norman became involved in the inaugral Inter-Island Games in 1985 in the Isle of Man. Having been made aware of the competitions taking place on the Isle of Man he asked for Ynys Mon to be included. A team was selected and all the arrangements completed within a two month period. Hence the inclusion of Ynys Mon in the Games! He participated in the inaugral Inter-Island Games and in later Games both as a Badminton competitor and General Team Manager for the Ynys Mon Team.
Norman was elected as a Member of the Executive Committee in 1995 and retired in 1999 to live in Spain.
Although being unable to attend the more recent Games, Norman is very proud to have been involved in the original concept of the Games.
Sporting Background:
Norman as a very keen sportsman achieved Internation Honours in Football, Athletics and Golf. He is still golfing and managing to keep a handicap of 4!
Profession:
Norman graduated from the University of Wales in 1969 with a Diploma in Physical Education. He taught in London and then in Jamaica where he was fortunate enough to have one of the best Track and Field School Teams in the World.
Norman moved into Leisure Management in 1973 where he worked until his retirement.