Profile
Alan Cross
Life Member - Jersey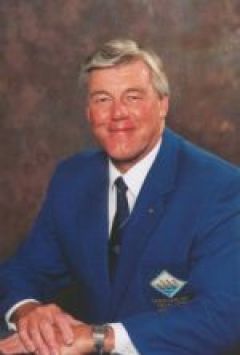 Island: Jersey
IIGA History:
Executive Committee:
Member 1985 – 1997
Chairman 1995 – 2001
Honorary Life Member Since 2001
Games attendance: 1985 – 2003, 2009, 2011
Contribution to the IIGA:
In 1985, Alan was the Jersey Team Manager for the inaugural Inter-Island Games in Isle of Man. During his 6 year term of office as Chairman, the Association's Headquarters were established in Athol Street, Douglas, Isle of Man; the Association became a Manx-based registered company and NatWest Offshore Bank became the Association's title/main sponsor.
Domestic Profile:
He is married to Ann and has two children and one grandchild. His son Jeremy was the Games Tennis Men's Singles champion in 1993, 1995 and 2001.
Sporting Background:
Alan was a keen all round sportsman in his younger days with particular successes in rugby union, athletics and tennis. He later concentrated on coaching trampolining, tennis and athletics with a number of national schoolboy champions to his credit. He now spends his leisure hours supporting the Jersey Rugby Club and playing geriatric tennis and golf.
Alan retired from the IIGA Executive Committee after the 2001 NatWest Island Games and became Secretary General to the Commonwealth Games Association of Jersey in April 2003. In April 2011, he was elected as the CGAJ's President, a position which he will retain until after the 2014 Glasgow Commonwealth Games.
Profession:
Alan trained as a specialist teacher of physical education and spent the early years of his career teaching in a number of schools within the London area. He was appointed to the staff of St. Paul's College of Education, Cheltenham before moving on to Carnegie College of P.E. in Leeds in 1973. While at Carnegie, he was invited to undertake a number of specialist lecture tours of African countries for the British Council. In 1979, he gained a Master of Education research degree from Leicester University. The Cross Family then moved to Jersey in 1980 when Alan became the States of Jersey Adviser for Physical Education and Sport. In 1986, he was responsible for the founding of the Jersey Island Games Association and of the Jersey Sports Association for the Disabled. He was team manager for many JSAD's visits to the International Summer School Federation programmes in the Isle of Man, Malta, etc.