Profile
Bo Frykenstam
Life Member - Gotland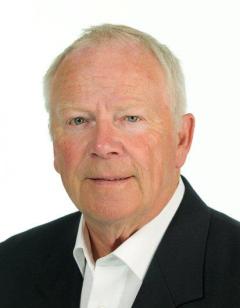 Island: Gotland
IIGA History:
Member 1987 – 1995
Vice Chairman 1995 – 2001
Chairman 2001 – 2005
Hon Life Member Since 2005
Games attendance: 1985 – 2011
Contribution to the IIGA:
Bo attended the first Inter-Island Games in the Isle of Man in 1985 as leader of the Gotland Team. He was elected as a Member of the Executive Committee in 1987, as Vice-Chairman in 1995 and as Chairman in 2001 and remained in office until he retired in 2005. Together with his colleagues he worked to develop the Association into a professional organisation. His first steps as Chairman were to appoint working groups to evaluate and simplify the Constitution and to suggest strategies for the Future of the Games. The role of the Sports Technical Committees was also addressed. He took it upon himself to simplify the Report to the AGM in a structured way in order to give the Membership detailed information. During the 1997 Games in Jersey he organised a meeting with medical personnel from the Member Islands to discuss the possibility of holding a Medical Seminar during future Games on sports medicine and sports related injuries and their treatment together with the dangers of doping and food supplements. These seminars are now an important part of the Games. He was responsible for the introduction of the Tree Planting Ceremony in 1999 at the Games in Aland, which has since become an IIGA tradition. Bo has attended every Games and was a Member of the Gotland Island Games Organising Committee for many years.
In September 2008 Bo was appointed Chairman of the Gotland Bid Committee to Host the 2015 Games. After Gotland narrowly lost the Bid he was again appointed as Chairman of the Gotland Bid Committee to Host the 2017 Games. At the AGM in Bermuda on 14 July 2012 Gotland was unanimously awarded the 2017 Games.
Domestic Profile:
Bo was born in 1937 in Karlstad, Sweden. He is married to Maja and has one child, 3 grandchildren and two great granddaughters.
Sporting Background:
In his younger days Bo was an active sportsman competing in football, handball, boxing, tennis, table tennis and badminton. He now keeps fit by cycling and cross-country jogging.
Bo was Chairman of the Gotland Athletics Federation 1976 -1982, Visby Tennis Club 1982 - 1984, Gotland Badminton Federation 1990 - 1996 and Chairman of the Nomination Committee for Gotland Sports Federation 2006 - 2010. He was also Vice Chairman of Sports Education Gotland 2000 - 2006; a Member of the Swedish Badminton Federation's Development Committee for five years and a Member of the Board of Gotland's Sports Federation, taking a particular interest in issues relating to sports education and equality. He was both a Member and Vice Chairman of his local Sports Club 1994 - 2004. On a national level he was a Member of both the Swedish Sports Confederation's Committee for Equality 1982 - 1985 and the Swedish Government's Equality Council 1983 - 1985. He has been involved for many years with the organising committee's of many different sports as a Member, Vice Chairman and/or Chairman.